Fed up being stuck in traffic?
Still looking for a parking space?
21st century life on our Island will need reliable passenger transport for the islander and the tourist.
Translohr trams can make the difference!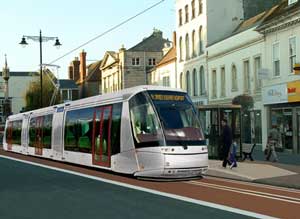 Impression of a Translohr tram
at St James Square Newport
This latest generation of electric Translohr trams are ideal for the Island and could transform passenger transport on the Isle of Wight.
Using small fully crewed Translohr trams on a regular 30 minute frequency, we calculate that a new line between Sandown, Newport and Cowes would, once built, be viable and would not require any Local or Central Government financial subsidy except for existing local student & OAP deals.
The new tramline would be capable of supporting the Islands commuters both to Southampton and London. For the visitor it would boast a direct link to the islands capital town and large holiday destination. Coupled with this it could remove over 2.5 million cars annually from the Sandown to Cowes corridor by 2016.